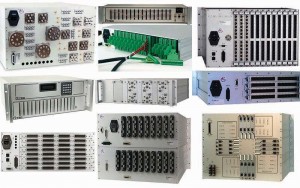 Programmable Switching Systems for Automatic Test, Data Acquisition, Communications and Controls.
Cytec Corporation manufactures over 300 types of innovative modular switching products that can be assembled and configured to provide an almost infinite variety of systems. Cytec can design a custom solution for any switching project. With 30 Years experience in the industry, we have a switch that can fulfill virtually every specification; low/high voltage, microwave, telephone, cable, fiber, and every other signal type. There are also numerous control options. Because one project is rarely like another, all of our products are completely modular and customizable. No project is too big or too small. Over 50% of our products are built specifically for custom applications.
All Cytec products have a full 5 year warranty*. This warranty guarantees the quality of workmanship that goes into every Cytec product. A 10-year warranty is available for a small additional cost on most products. All products are 100% tested before shipment.
Products